Happy Valentine's Day, everyone. Are you having a good day? It's sunny where I am, and even though my loved one is not on hand (and Mr A not standing in, either 😉 ), I am in top mood. A few new pictures of RA, fresh from the Berlinale – thanks to Nimue, who pointed out the link over in the comments on Armitage Agonistes, bright sunshine outside, and the daffodils in my window box in full, yellow glory 🌼. Mood boost!
Now, I hope to make the day for one of you in particular. The raffle is done, and Randompicker has just identified the winner for me. Congratulations to… *drumroll*
Andrea has thrown her name in quite a few raffles, so I am extra-pleased that Lady Luck decided on her – especially as she only said a few days ago that she really loves those boozy cherry-chocolates… Well, the universe must have been working on her behalf 😉
As soon as I have your address, Andrea, this shrine will go on its way to you! Send me an e-mail to guylty(at)photographer(dot)net 🙂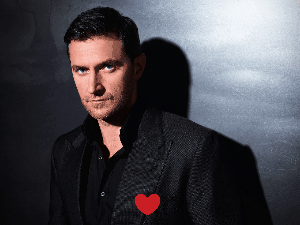 Hard luck to everyone else. But as always, I can already say that there will be more opportunities for winning a shrine, soon. And if you would like to warm your ❤ on some Valentine's love, how about you re-visit our 2014 Valentine's fandom love project? Back then we created a blog where bloggers and commenters exchanged some lovely posts. It's two years on, but the love never gets old, does it? Click HERE for the RAworld Secret Valentine.
Myself, I actually also received a Valentine's gift. Lovely Kathy has written an ode. I hope it is not too self-adulatory to post it here:
Valentine Ode
What is a perfect Valentine?  
Red roses or some sparkling wine?  
A candlelit corner in which to dine?  
Beautiful jewels that glitter and shine?  
Or chocolate delights so creamily  devine?  
All of these Valentines are perfectly fine.
But not one can compare to a cool Guylty shrine.    
Hope you continue to have a lovely day.
Hugs & ❤ <3,
Guylty
PS: Draw protocol here: