It looks as if I have a lot of shrining in my future. There is the custom RAPS auctioned off in this year's RA Birthday Auctions, and due to a combination of me and the buyer forgetting about it, *last* year's custom RAPS from the auctions also needs to get done, presto. Most devastatingly, however, I yesterday got very bad news. For the first time ever, a shrine has gone missing in transit! The buyer of the Guy 2-in-1 RAPS received my package unsealed and completely empty. Makes you wonder why they bothered to deliver it at all!!! This is really devastating, but there's nothing else to be done but to completely recreate a shrine that ranked among my favourites. Luckily, I still have the photos to work from – and the supplies that I need.
Adding to shrine workload, but happily so, I have some good news, too. I have not forgotten about my auction incentive raffle. I compiled the list and let randompicker determine the raffle winner. Result:
Snowyjo
So, Tommie, congratulations. This is a nice win as it doesn't double with a shrine purchase. Why don't you let me know which chaRActer you would like enshrined, and I'll get to that, too?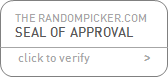 Right, and for the newer members of the fandom, I am closing with a look back into the stone age of Richard Armitage interviews. Here's one that I really enjoyed. An absolutely pants-droppingly gorgeous Richard, around Captain America time, judging by the hair cut, flirting with Mylene Klass. *thud* And laughing. Enjoy!