So, happy new year to you all! I hope you all had a the kind of New Year's Eve that you wanted. Mine was surprisingly good, with a trip to the early evening showing of Knives Out in the cinema and then a bite to eat at a local diner. That still left a lot of lounging time on the sofa, culminating in watching the live stream of the London fireworks. – New Year's Day has been quiet. Just as I like it.
Oh Bono!! So young… And a classic Gizzie mullet there! Is it really possible this song is 37 years old? A veritable oldie…
And the first post of the year is to be a happy one in the sense that I can post the name of the winner of the New Year's RAPS. I'm delighted to give the RAPS to
Lurkerella
Congrats, Lurkie 😉. Will you please get in touch with me via e-mail at guylty@photographer.net and let me know your address so I can pop the shrine into the post for you?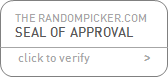 Everyone else – thank you for your lovely new year's wishes yesterday, and your participation in the raffle. There'll definitely be more coming up, soon!
Have a wonderful 2020, all of you!