A sunny and quiet day where I am. I live in the "professional" centre of Dublin, a historic square whose houses are mostly offices nowadays. Only very few residents in the 69 houses here, maybe 10 of them are occupied in some form. This is usually a bustling square, and since one of the intersecting streets is a national road, there tends to be a never-ending stream of traffic. This morning and all day it has felt like a Sunday here, though. Here is the view from my window at shortly before 10am.
I can't say I don't love it!
Mr Guylty can't sit still, and he has decided to paint our top floor windows. I can't very well let him work while I am doing nothing, so I have devised a list of "household entertainment". Not entirely true – I have just relabelled the chores as entertainments, so that I am more motivated to tackle them.
As you can see, I have ticked off the first item on my list. But boy, it literally took two hours to clean that fridge. Says a lot about the size of my fridge. Or rather the state of it 😱 I took all of the shelves and baskets out, washed it all, cleaned all the inside and reassembled it. It's spic and span now, and I hope it will last a little while. – A yeast loaf is currently proofing in the sunshine on the (inside) window sill, and later on I will have to make that birthday card for my god daughter. I'm leaving more 'entertainments' for tomorrow. By the end of all this, I suspect I may have the house gleaming and clean. And I will probably have to start at the beginning again…
Right, on to today's *real* entertainment. Question 3 of the #ADC
3. What's your current favourite show?
Boring answer, but that would have to be The Stranger. By virtue of being the last show of RA's that I have watched – and not only once but 2.5 times. The decimal points to the fact that I have not gone back to the episode-by-episode community watch, yet. But I will do. As for reasons – well, even though some of the shortcomings of the show became more obvious on second watch, I still think it is a great vehicle for RA. He looks so convincing in it – and for once in a role that is actually quite "ordinary". Not a spy with superhero qualities, and not a psychopath murderer, either. Extraordinary circumstances but an everyman who doesn't actually go beyond his strengths to save the world or something like that. I did enjoy seeing his plot evolve – and I am thinking of doing a fourth rewatch with the finger firmly on the fast-forward button, ignoring all the secondary stuff. I wonder how the show works then, and whether it would've stood up better – or at all – on its own. But yes, it's my favourite right now because there is so much Richard in it. I love that he has top billing on this.
As for the Paddy's Day RAPS Raffle…
I have just run the raffle through randompicker. And Lady Luck has decided on…
Zeesmuse
Congrats, Zee. This will go in the post to you, soon.
Draw protocol: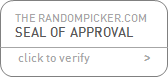 Currently my craft room is a no go-zone – because Mr Guylty is painting the window in there. But I can already disclose that I have two more shrines in production. Hurry up, Mr G. I want to go back to crafting.
Stay home – stay safe, everybody!